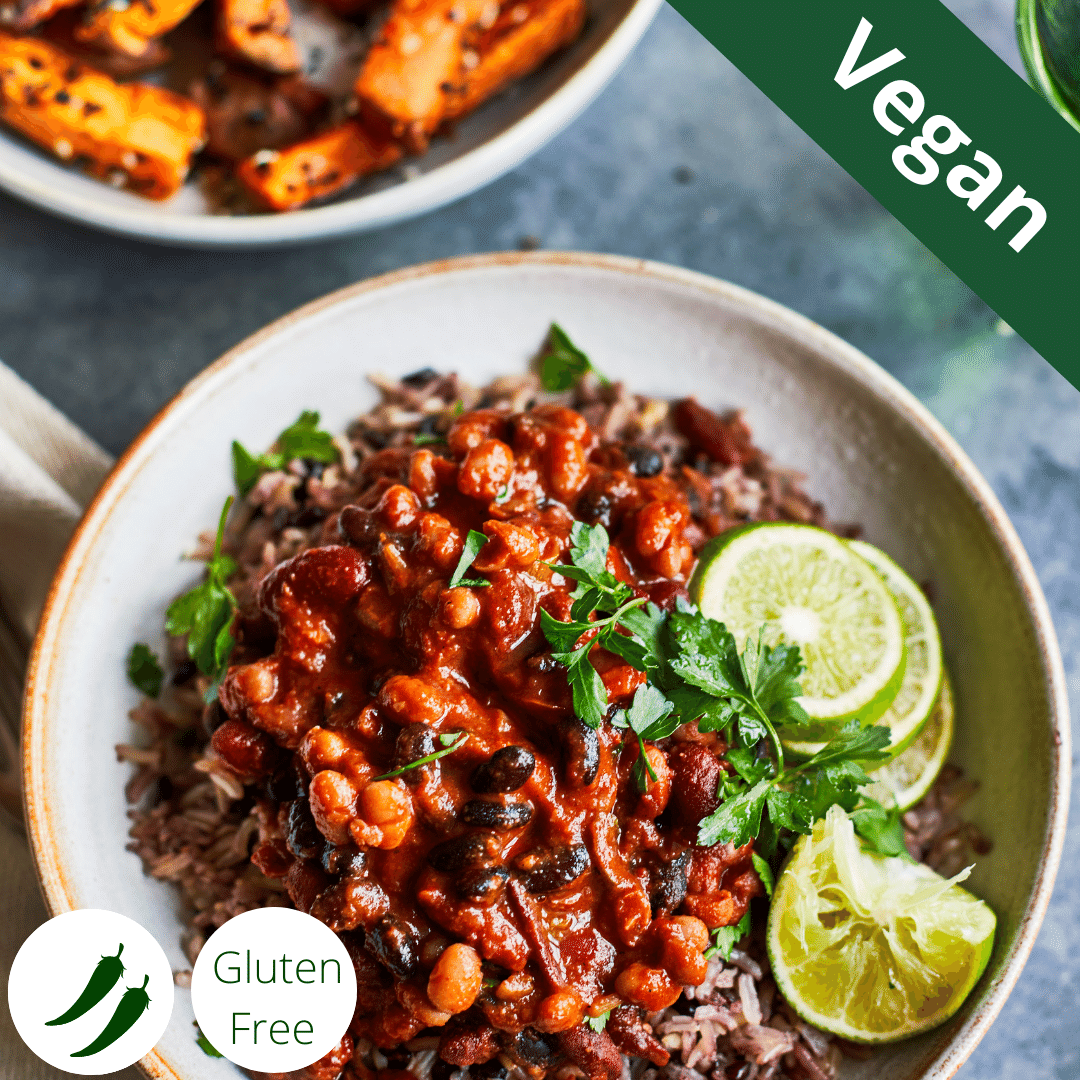 With Tahini-Roasted Sweet Potato & Basmati Rice
Slow-cooked three-bean chilli in a smoky red pepper and tomato sauce. Served with brown basmati and black rice, and a side of roasted sweet potato wedges, drizzled in our miso & tahini sauce and finished with mixed sesame seeds.
Brown & Black Basmati Rice
Three-Bean Chilli
Tahini Roasted Sweet Potato
Contains: Sulphites, Soya, Sesame
Ready in 5 minutes:
1. Bring a saucepan of water to the boil
2. Place each bag in the saucepan and simmer for 5 minutes
3. Carefully remove each bag with a pair of tongs and cut open
4. Tip the contents on to your favourite plate and serve
Freezing: All dishes can be frozen within 7 days of delivery (the sooner the better). When ready to eat, defrost fully before reheating and eat the same day.
Basmati Brown & Black Rice (brown basmati rice, black rice, extra virgin rapeseed oil, rapeseed oil, lemon juice, water, white wine vinegar, salt, black pepper),
Three-Bean Chilli (black turtle beans, red kidney beans, haricot beans, rapeseed oil, onion, garlic puree (garlic, rapeseed oil), salt black pepper, smoked paprika, coriander seed, cumin seed, white wine vinegar, chilli powder, tomato puree, tomatoes, spring onion, miso, soy sauce, water, natural hickory smoke powder)
Tahini Roasted Sweet Potato ( sweet potato, rapeseed oil, miso, tahini, lemon juice, water, white sesame seeds, black sesame seeds)
Allergens highlighted in bold.
Contains: Sulphites, Soya, Sesame

Veggie Towers
23-24 Resolution Way, Deptford, London SE8 4NT