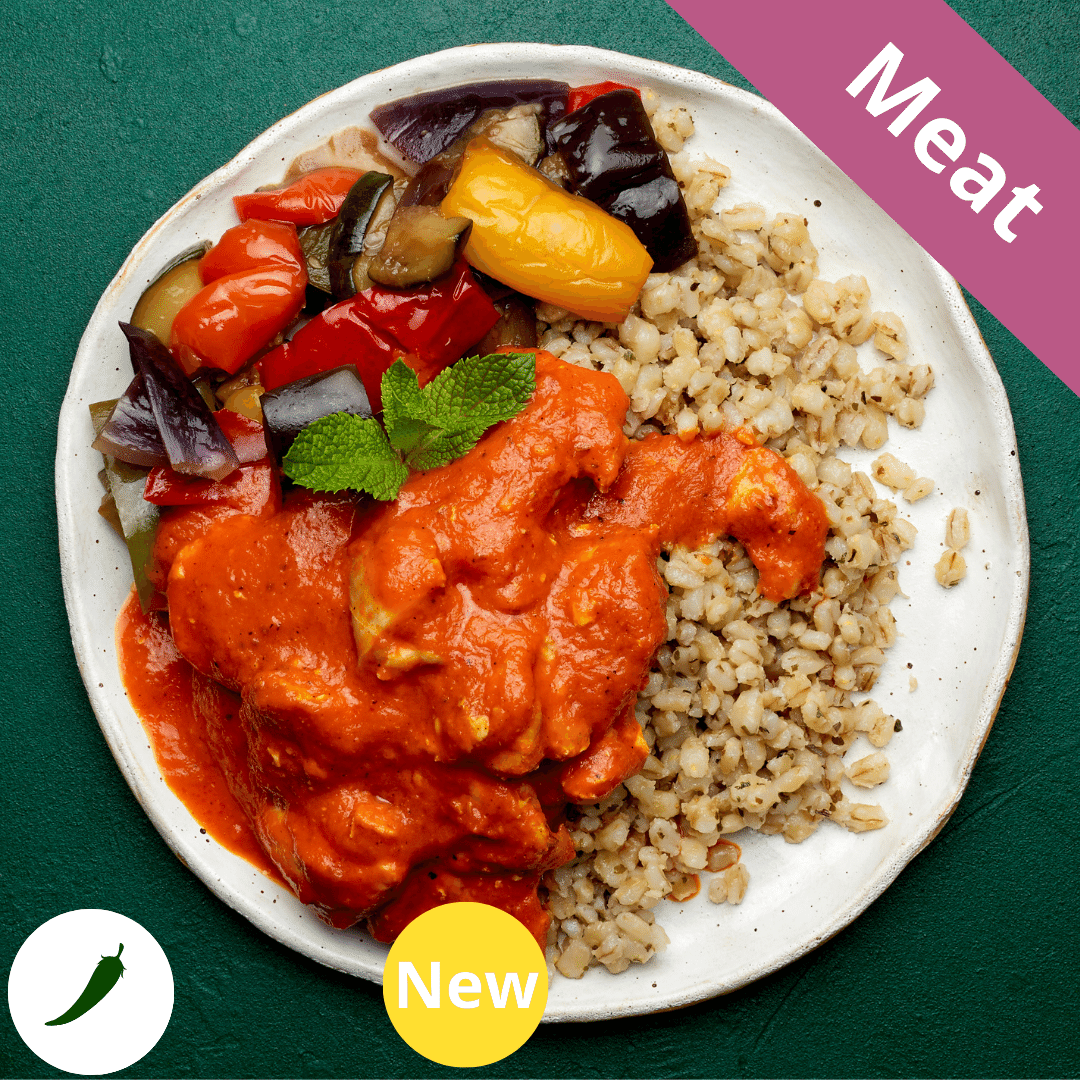 Roasted Mild Harissa Chicken
with Pearl Barley and Roasted Mediterranean Vegetables
High welfare, sustainable chicken from Soanes Farm in Yorkshire is slow-roasted and folded into our red pepper, carraway and harissa sauce. Served with pearl barley and a side of roasted mediterranean vegetables.
Pearl Barley
Roasted Chicken in Mild Harissa Sauce
Roasted Mediterranean Vegetables
Contains: Gluten, Sulphites
Ready in 5 minutes:
1. Bring a saucepan of water to the boil
2. Place each bag in the saucepan and simmer for 5 minutes
3. Carefully remove each bag with a pair of tongs and cut open
4. Tip the contents on to your favourite plate and serve
Freezing: All dishes can be frozen within 7 days of delivery (the sooner the better). When ready to eat, defrost fully before reheating and eat the same day.
Pearl Barley (pearl barley, dried mint, extra virgin rapeseed oil, rapeseed oil, lemon juice, water, white wine vinegar, salt, black pepper). Roasted Chicken in Mild Harissa Sauce (chicken (17.3%) roasted red pepper, tomatoes, smoked paprika, cumin seed, caraway seed, coriander seed, black pepper, salt, lemon juice, harissa paste (paprika, red chilli, sunflower oil, garlic, salt, mixed spices, rose, acidity regulator) tomato puree, rapeseed oil)
Roasted Mediterranean Vegetables (green pepper, red pepper, yellow pepper, red onion, courgette, aubergine, olive oil, salt, balsamic glaze (concentrated grape juice, balsamic vinegar (red wine vinegar, grape must, colour, white wine vinegar, thickener (guar gum, xantham gum)
Allergens highlighted in bold.
Contains: Gluten, Sulphites