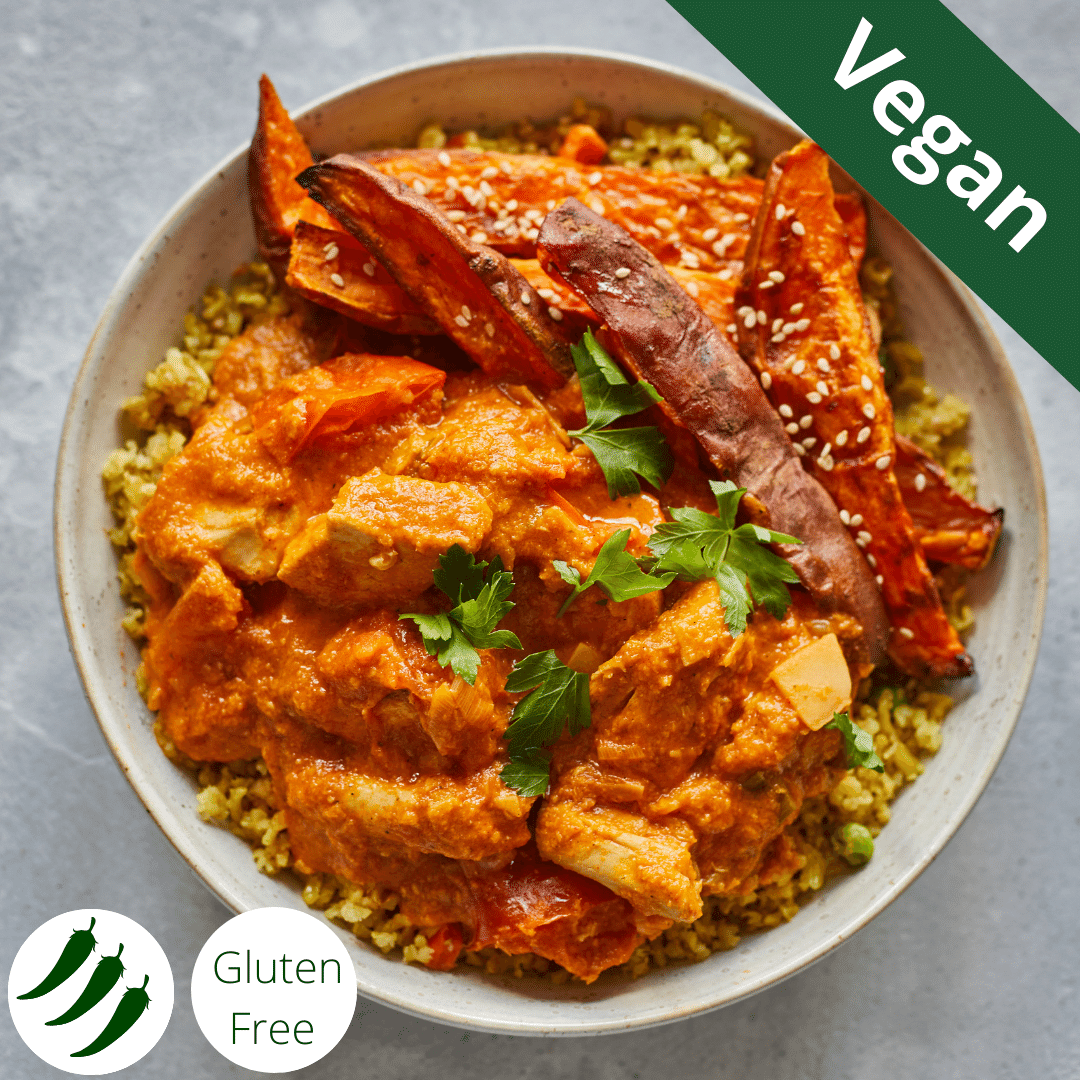 With Tahini-Roasted Sweet Potatoes & Biryani Rice
Our masala sauce is all-natural - no artificial colours or added sugar here! Kashmiri chilli adds heat and a vibrant red colour, while caramelised onions add sweetness. Mixed with THIS Isn't Chicken © pieces for a Farmstand twist on the takeaway classic. Served with spiced vegetable basmati rice and a side of roasted sweet potato wedges, drizzled in our miso & tahini sauce and finished with mixed sesame seeds.
Vegetable Biryani Rice
THIS! Isn't Chicken Tikka Masala
Tahini Roasted Sweet Potato
Contains: Mustard, Soya, Sesame
Ready in 5 minutes:
1. Bring a saucepan of water to the boil
2. Place each bag in the saucepan and simmer for 5 minutes
3. Carefully remove each bag with a pair of tongs and cut open
4. Tip the contents on to your favourite plate and serve
Freezing: All dishes can be frozen within 7 days of delivery (the sooner the better). When ready to eat, defrost fully before reheating and eat the same day.
Vegetable Biryani Rice (brown basmati rice, white onion, carrot, sweetcorn, green beans, peas, garlic puree (garlic rapeseed oil), ginger puree (ginger, rapeseed oil), star anise, cinnamon, cardamom, clove, cumin, coriander seed, dried mint, dried coriander, mild chilli powder, turmeric, garam masala)
THIS isn't Chicken Tikka Masala (masala sauce (coconut milk, water, white onion, tomato puree, rapeseed oil, salt, tomato puree, chilli powder, garam masala, ginger puree (ginger, rapeseed oil), garlic puree (garlic, rapeseed oil), lemon juice, lime pickle ( lime, cottonseed oil, salt, mustard seed, Lime Juice, Fenugreek, Chilli Powder, acetic acid*, turmeric, coriander seed, cumin seed), dessicated coconut, fenugreek leaves), spring onion, coconut oil, lime juice, coriander, garam masala, turmeric, salt, chilli powder), tomato, THIS isn't chicken pieces (9.3%)(water, soya protein concentrate (30%), sunflower oil, flavouring, pea protein isolate (2%), potato starch, salt, pea fibre, rapeseed oil, maltodextrin, sea salt and black pepper seasoning [maltodextrin, black pepper, sugar, yeast extract powder, natural flavouring, sea salt], titanium dioxide, iron, vitamin B12), spring onion, ginger, coconut chips)
Tahini Roasted Sweet Potato ( sweet potato, rapeseed oil, miso, tahini, lemon juice, water, white sesame seeds, black sesame seeds)
Allergens highlighted in bold.
Contains: Sulphites, Mustard, Soya, Sesame