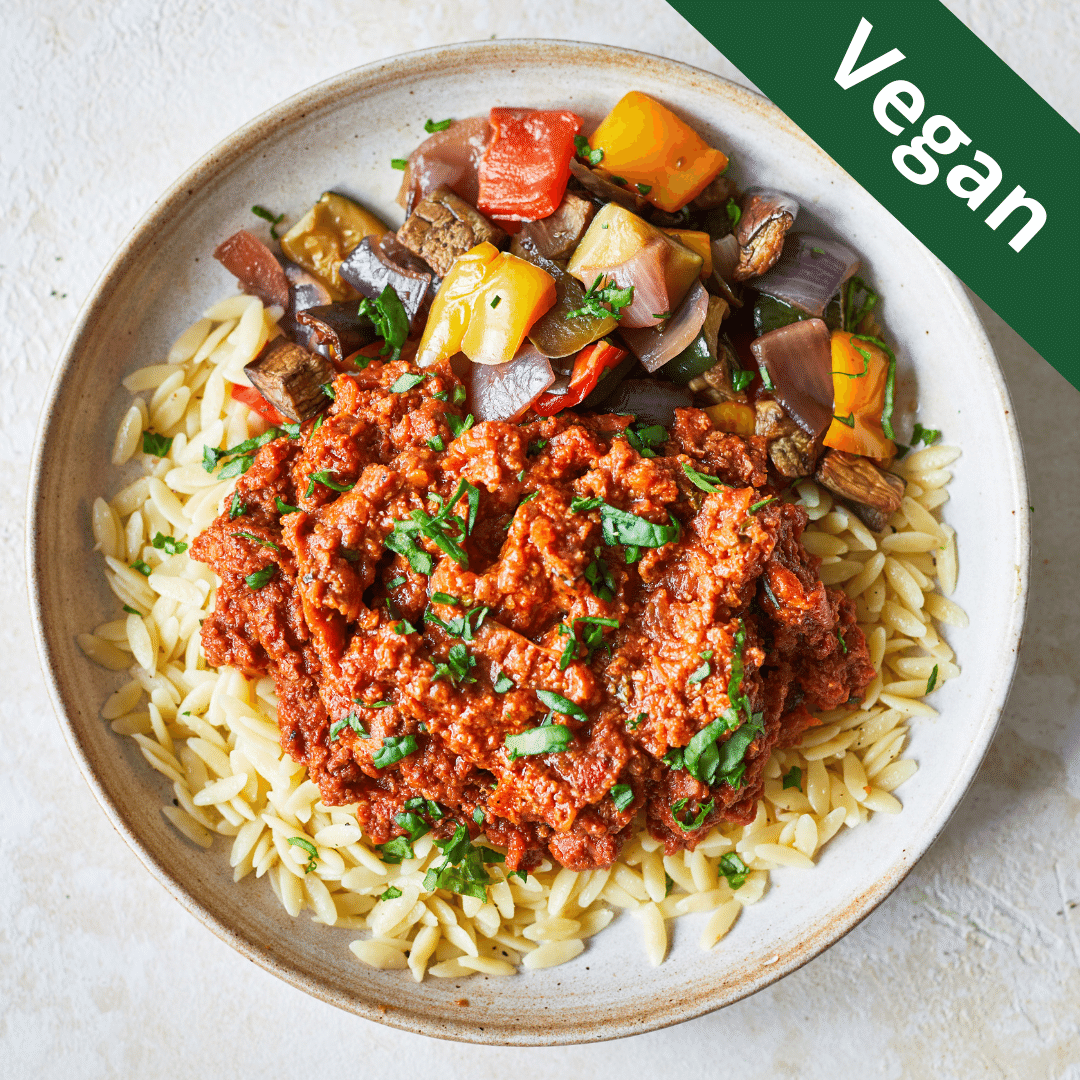 With Roasted Mediterranean Vegetables & Orzo Pasta
A Farmstand twist on a family favourite! High-protein Meatless Farm © mince in a rich tomato and red pepper sauce make our vegan bolognese, served with peppery garlic orzo pasta and balsamic-glazed, roasted mediterranean vegetables.
Garlic & Black Pepper Orzo Pasta
Meatless Farm Bolognese
Roasted Mediterranean Vegetables

Allergens highlighted in bold.
Contains: Wheat, Soya, Celery, Sulphites
Ready in 5 minutes:
1. Bring a saucepan of water to the boil
2. Place each bag in the saucepan and simmer for 5 minutes
3. Carefully remove each bag with a pair of tongs and cut open
4. Tip the contents on to your favourite plate and serve
Freezing: All dishes can be frozen within 7 days of delivery (the sooner the better). When ready to eat, defrost fully before reheating and eat the same day.
Garlic & Black Pepper Orzo (orzo(durum wheat semolina), olive oil, salt, garlic puree (garlic, rapeseed oil), black pepper, lemon zest)
Meatless Bolognese (36%) (The Meatless Farm Plant-Based Mince (water, soya protein concentrate (19%), rapeseed oil, soya protein isolate, pea protein (4.5%), chicory root fibre, thickener:. methyl cellulose, natural flavouring, caramelised carrot concentrate, carrot fibre, rice protein (0.5%), vegetable and fruit extracts (beetroot, radish, tomato), yeast extract, carrot concentrate, emulsifier:. soya lecithin, antioxidant:. ascorbic acid, salt, vitamins and minerals (niacin, zinc, iron, vitamin B6, vitamin B2, Vitamin B1, Vitamin B12)), onion, olive oil, garlic puree (garlic, rapeseed oil), carrot, celery, tomatoes, red pepper, textured vegetable protein (soy flour), yeast extract, rapeseed oil, basil, white pepper, salt)
Roasted Mediterranean Vegetables (green pepper, red pepper, yellow pepper, red onion, courgette, aubergine, olive oil, salt, balsamic glaze (concentrated grape juice, balsamic vinegar (red wine vinegar, grape must, colour, white wine vinegar, thickener (guar gum, xantham gum)
Allergens highlighted in bold.
Contains: Wheat, Soya, Celery, Sulphites