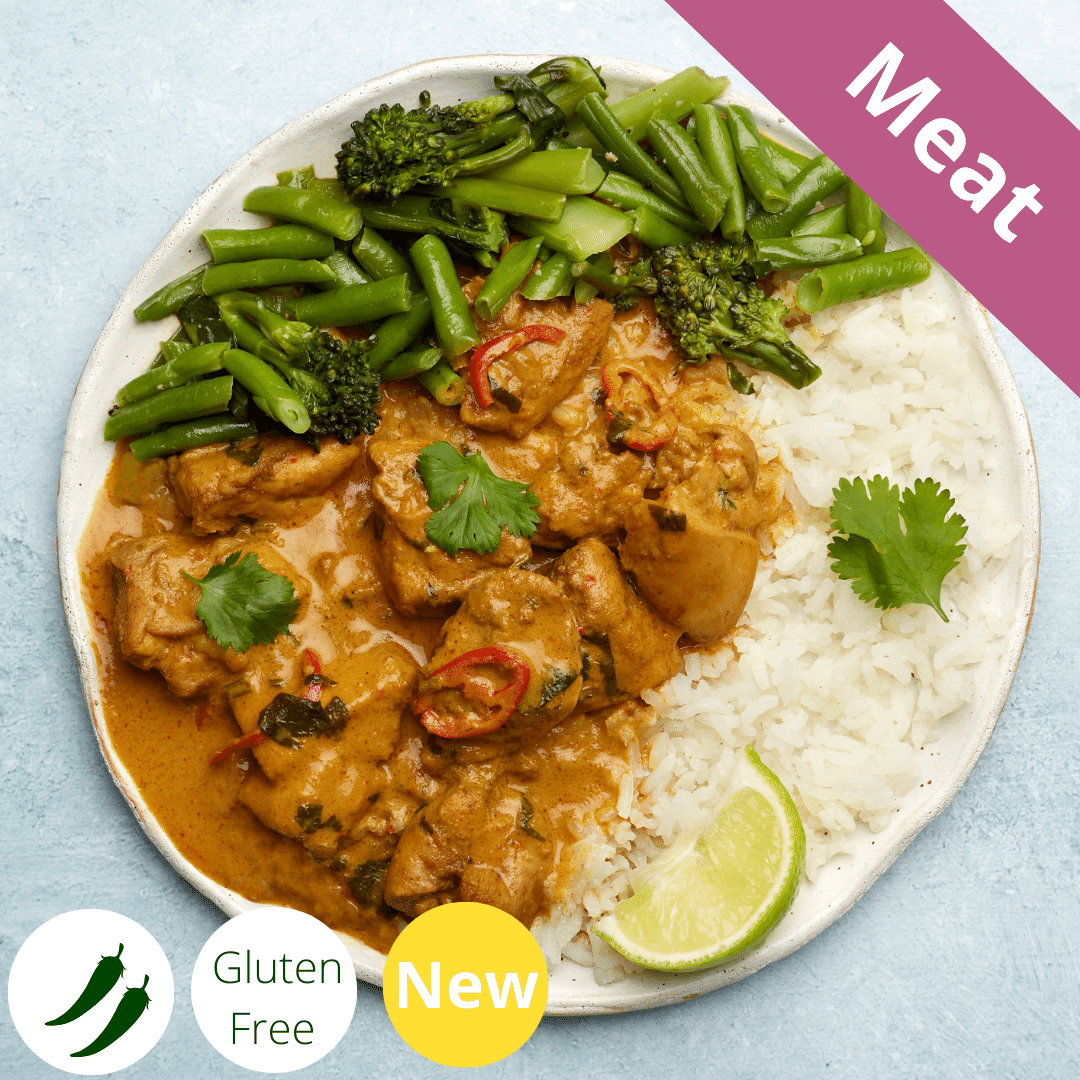 with Steamed Jasmine Rice and Green Beans and Purple Sprouting Broccoli
High welfare, sustainable chicken from Soanes Farm in Yorkshire is slow-roasted and folded into our fragrant and indulgent Malaysian peanut satay sauce. Served with steamed Jasmine rice and a side of steamed beans and purple sprouting broccoli.
Steamed Jasmine Rice
Malaysian Chicken Satay
Steamed Beans & Purple Sprouting Broccoli
Contains: Peanuts, Soy, Fish
Ready in 5 minutes:
1. Bring a saucepan of water to the boil
2. Place each bag in the saucepan and simmer for 5 minutes
3. Carefully remove each bag with a pair of tongs and cut open
4. Tip the contents on to your favourite plate and serve
Freezing: All dishes can be frozen within 7 days of delivery (the sooner the better). When ready to eat, defrost fully before reheating and eat the same day.
Steamed Jasmine Rice (Jasmine rice, olive oil, garlic puree (garlic, rapeseed oil), salt, black pepper, lemon zest)
Malaysian Chicken Satay (chicken thigh (17.3%), lemongrass, lime leaf, garlic puree (garlic, rapeseed oil), red chilli, rapeseed oil, caramelised onion (onion, rapeseed oil, salt), peanuts, coconut milk, tamari, coriander seed, cumin seed, turmeric, chilli powder, paprika, curry powder, salt, fish sauce)
Steamed Beans & Purple Sprouting Broccoli (green beans, purple sprouting broccoli, rapeseed oil, garlic puree (garlic, rapeseed oil), black pepper, lemon zest, salt)
Allergens highlighted in bold.
Contains: Peanuts, Soy, Fish