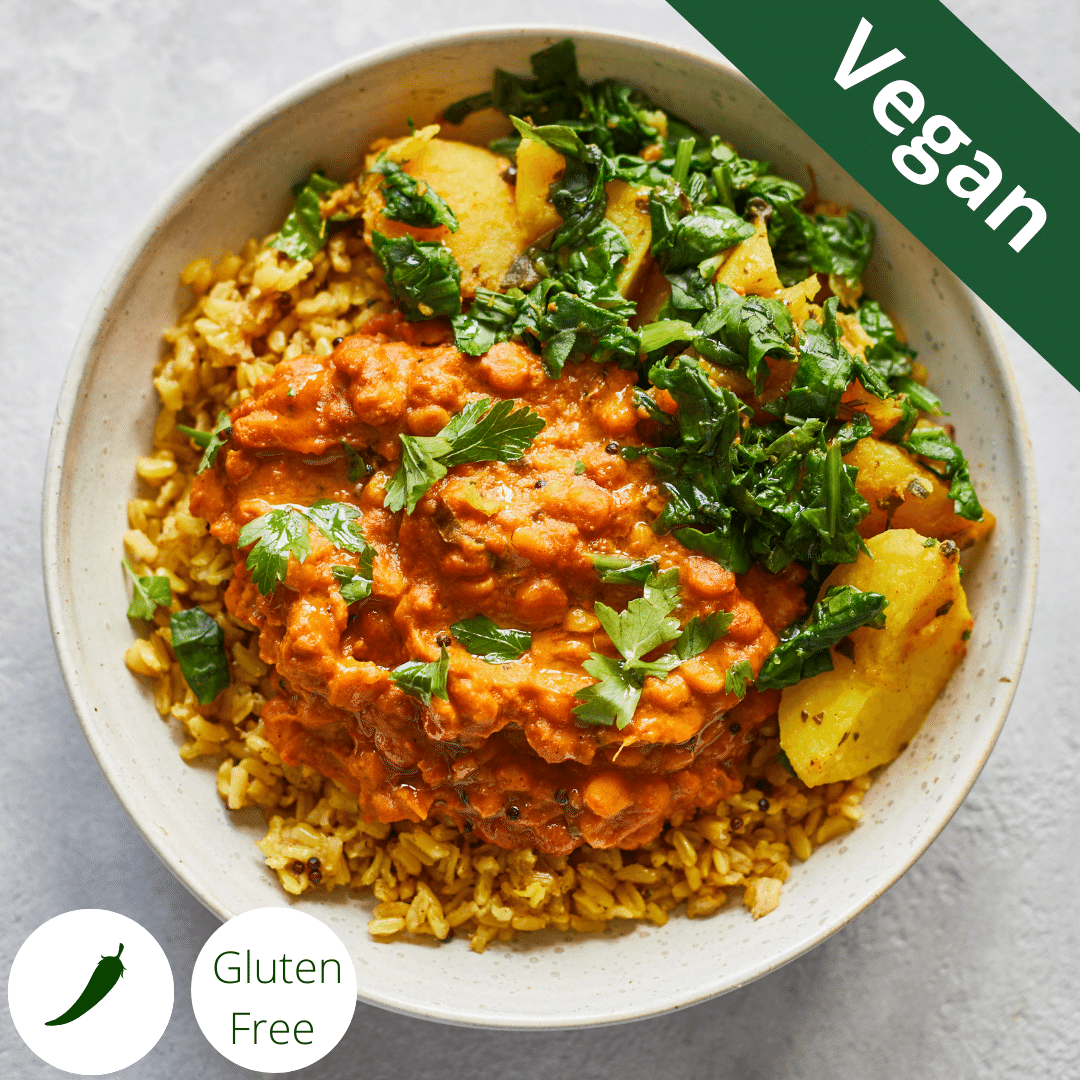 Comforting Chickpea Curry
With Spinach, Potatoes & Pilau Rice
This is a long-standing Farmstand favourite!
A coconut and tomato-based Indian chickpea curry, mildly spiced with cumin, coriander, turmeric and chilli. Served with Pilau rice and a side of saag aloo.
Pilau Rice
Chickpea Curry (Chana Masala)
Spinach and Potatoes (Saag Aloo)
Contains: Mustard
Ready in 5 minutes:
1. Bring a saucepan of water to the boil
2. Place each bag in the saucepan and simmer for 5 minutes
3. Carefully remove each bag with a pair of tongs and cut open
4. Tip the contents on to your favourite plate and serve
Freezing: All dishes can be frozen within 7 days of delivery (the sooner the better). When ready to eat, defrost fully before reheating and eat the same day.
Pilau Rice (brown basmati rice, ground cardamom, mustard seeds, turmeric, rapeseed oil, onion, bay leaf, salt)
Chickpea Curry (tomato, coconut milk, chana dal, white onion, rapeseed oil, ginger puree (ginger, rapeseed oil), garlic puree (garlic, rapeseed oil) salt, bicarbonate of soda, turmeric, mustard seeds, cumin seed, coriander seed, chilli powder, spring onion, lemon juice)
Saag Aloo (potato, baby spinach, tomato, masala sauce (coconut milk, water, white onion, tomato puree, rapeseed oil, salt, tomato puree, chilli powder, garam masala, ginger puree (ginger, rapeseed oil), garlic puree (garlic, rapeseed oil), lemon juice, lime pickle ( lime, cottonseed oil, salt, mustard seed, Lime Juice, Fenugreek, Chilli Powder, acetic acid*, turmeric, coriander seed, cumin seed), dessicated coconut, fenugreek leaves), spring onion, coconut oil, lime juice, coriander, garam masala, turmeric, salt, chilli powder)
Allergens highlighted in bold.
Contains: Mustard

Veggie Towers
23-24 Resolution Way, Deptford, London SE8 4NT